The amount of fiber you get per day is very important to living a healthy lifestyle and appropriate for a healthy digestive system. As you can imagine, it also helps you 💩.
If you read these posts, you'll know I always talk about having too much of something or too little of something is never a good thing. You always need to find a balance. You can probably see where I'm going with this, but fiber is the same way. Too little fiber can cause issues and too much fiber can also lead to its own issues. You need to find the proper amount to eat per day.
Let's go over why fiber is important, the different types of fiber and how much you need in your diet.
Why is Fiber Important
Dietary is a very important part of our diet. Without fiber in our diets it can lead to symptoms like constipation or even diarrhea.
Fiber has also shown that it can be protective against colorectal cancer as well (1). Including fiber has also been shown to help with improving blood sugar levels and improving cholesterol levels as well. If you want to learn more about this check out this article and how fiber can improve cholesterol.
Which Fiber Should I Get More Of?
There are different types of fiber, but the 2 you'll probably see the most is Soluble and Insoluble fiber. 
Soluble fiber gets dissolved in water. It also can bind to cholesterol and sugar which slows down carbohydrate digestion.
Insoluble fiber absorbs fluid. This type of fiber makes stool larger and easier to pass as well. 
Having both fibers in your diet is important. As having too much of one and not the other will cause issues. Most sources of fiber will usually have a little bit of both in there, so this isn't something you would need to map out. However, here is a picture of foods that are Insoluble and Soluble: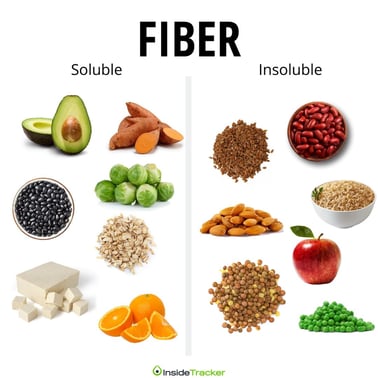 How Much Fiber Do I Need?
Getting enough fiber is important but also consuming too much can be an issue too. So how much fiber should you get?
The general rule is to intake 10 grams of fiber per 1000 calories. For example, if you're intaking 2000 calories a day, you should be getting at minimum 20 grams of fiber a day.  
However, eating more than 70grams a day is too much and usually not advised. 
If you're concerned and about how much fiber you should be getting a day though, you should speak to your doctor.
Final Thoughts
Fiber is an extremely important part of our diet. Lack of it can cause minor issues like constipation and diarrhea but can potentially lead to other serious complications if it's consistent enough. Including it can also help with some issues you may be currently facing like high cholesterol levels or blood sugar levels. 
Too much fiber can also cause it's own problems as well, so consuming the right amount of fiber per day is important. 
You do need to intake an adequate amount of each fiber to get the overall benefits of it. Having a balanced and sustainable diet is important in achieving this. 
Photos:
References:
Masrul M, Nindrea RD. Dietary Fibre Protective against Colorectal Cancer Patients in Asia: A Meta-Analysis. Open Access Maced J Med Sci. 2019;7(10):1723-1727. Published 2019 May 30. doi:10.3889/oamjms.2019.265